Day One-Hundred and Seven of Twinipedia
Twins have the unique opportunity to be able to attend yearly Twin Festivals both in the Continental US as well as all over the world.
Mexico
There are festivals from Ohio to Ireland and Great Britain to Ghana.
Take your pick!

Ghana
There is a great site called Twin Realm that shares a great collection of Twin festival listings including locations, dates, and events at the festival.
Check it out if you are twins and would want to attend a festival in your country or check it out for your twins if you are the parents of twinnies!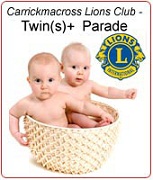 Ireland
There are also Super Multiples Festivals noted on the site as well.